Name: Unknown
Nickname: DJ 9
Appearance: no armor and wears a black baseball cap, hands are white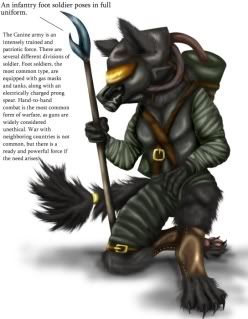 Armored
Sex: male
Age: looks about 20
Race: canine
Personality: Happy, bright, outgoing, helpful, but can be serious and protective
Powers: None known or seen but can heal only in armor
Special Skills: Master of hand-to-hand and the use of a wide set of weapons
Weapons: electrically charged spear and a M16
Bio: DJ 9 is one of the toughest soldiers on the force. On his day job he is a DJ at his twin brother's nightclub. No one has ever seen DJ 9's eyes after the last war that he was in. Most said he died but when he came back he looked well and healthy and as if nothing ever happened. That was when he was wearing a black baseball cap and never spoke of the war.
Sexual Orientation: straight
Extra: DJ 9 wears his hat low enough to cover his eyes, and the only thing to tell the difference between him and his brother is the color of fur on there hands.