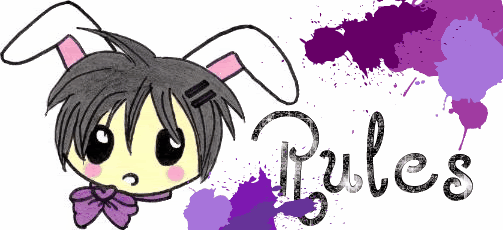 Ok so the Rules are pretty easy and if you don't follow them my mommy's going to be pretty mad... and I don't want my mommy to be mad so~ follow the rules...please!? :3
So I got a list she gave me...I'll read what she wrote...
mommy

Follow the Gaiaonline ToS.

Please Respect.

Please Do NOT steal my art.

If my name is not on my artwork, I still want you to credit me

Please, do
not
PM me asking me when your art will be finished, it'll get done when it gets done. It's annoying and make's me sad ;o;

Please be a doll, don't quote me or the first page ;3

I can deny your request if I choose to. Sometimes I can't draw what you want me to draw...sorry 3:

All people wishing to receive art from me, MUST fill out the order form

Please... If you order art just stick around...don't just leave and expect me to keep drawing cuz I most likely wont.

I will have three slots no more no less...anymore and I'll feel constricted. I like to take my time and do a good job, please don't rush me -_-;;

Feel free to chat until your heart's content!