Name: Lucinda
Nickname: Lucy
Age: 20
Race: Human
Appearance:
Bio: Lucinda lived in a small town where gossip is the main form of entertainment. Unfortunately, wild stories were being spread about Lucy and her neighbor, Andy. Andy had gotten Lucy pregnant and her parents sent her away to her grandma until the baby was born. Lucy gave birth to a baby girl. Sadly, the little girl passed away minutes after her birth. There wasn't even enough time to give her a name, or even for Lucy to meet her. Her grandma, Mary, felt pity for Lucy and asked her if she wished to adopt a child. Lucy agreed.
The adoption agency from Mary's town did not have any new born children, nor any blonde children like Lucy. Lucy waited with Mary for a few years until a blonde child was brought to the agency. Surprisingly, the girl was born on the same day that Lucy's child had been born. Lucy decided to name her Marybel, after her grandma, who had been supporting her all those years.
As Lucy prepared to return home with her new daughter, her grandma had to think of a cover story as to why Lucy was gone all those years, not returning home immediately after the baby had been born. Mary told Lucy's parents that Marybel had been awfully sick and had to be constantly taken to the hospital. Because the doctors in Lucy's town were barely educated, Lucy had not wanted to take the chance of not having her little girl treated and passing away. Only until recently had the little girl been fully well and was guaranteed not to fall ill from the same sickness again.
Name: Marybel
Age: 4
Race: Human
Appearance: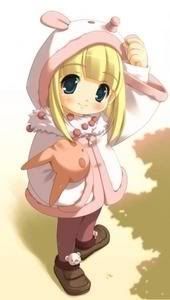 (She does carry around the bunny from the picture)
Bio: Marybel was born to Abigail and Tom, who loved their child deeply. Unfortunately, though they loved their child very much, they were unfit to take care of her. Tom was constantly coming home early in the morning drunk, often beating Abigail, and, when she got older, Marybel. Abigail, terrified of Tom, had started using drugs to numb her depression and also the sadness she felt for her husband.
When Marybel, or Kathy to her birth parents, was taken away from her home by a social worker, Tom had committed suicide, having preferred to die than live without his daughter. Abigail, overcome with grief of losing her husband and her daughter, had ODed and died.
Although Marybel is only 4 years old, she can already speak, but sometimes her sentences can be confusing. (Consider this a warning to non-literate haters
razz
Haha, just kidding. Or am i?
stare
)