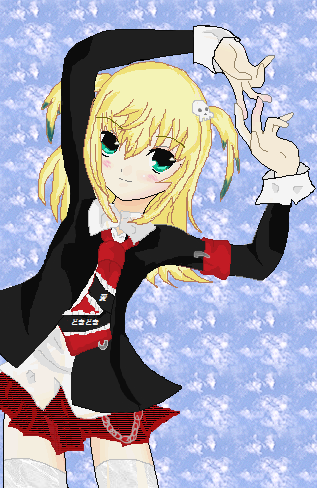 Birthday: Febuary 4th
Blood Type: AB
Age: 12-13
Height: 5 ft. 4
Weight: 85 lbs.
Team: Guardian, Seiyo Academy Student
Sign: Aquarius
Voice: Mixture of Ai Otsuka, Nana Mizuki, and Satomi Sato
Personality
Natsumi is rather tomboy-ish. She used to hang out with boys than girls because of her interests in sports and clothes. When she go to middle school, she wanted to appear girlier so she can possibly have more friends and a better reputation. Though she is shy when it comes to trying out new things and making friends. But she does not outgrow her love in sports and dark colors.
She is also rather slow at understanding things. It takes her awhile to figure subjects and situations.
Bio
She's lived rather a "happy" life, as she thinks. She lives with her little sister, Amaya, in an apartment and that's all. She does not know what have happened to her parents other than they left for a vacation and never returned. Natsumi isn't really rich and doesn't have much to pay her bills and apartment rental fees, so her upstairs neighbor (Soto and Saito) help her; though she does not spend much time with her neighbors because they never want to. They always slam the door in her face, or say she should go away, but when it comes to Amaya, her neighbors would do anything for her. Sometimes Natsumi can't help but think her little sister would do better in life if she wasn't born. Amaya gets all the praise and Natsumi gets all the scolds. She sometimes babysits other kids so she can earn money for herself.
Because Natsumi has a such an interest in sports, she is mostly seen doing them, and is better at certain sports than other girls. She doesn't like to be honored or in the center of attention much, but she appreciates it. She doesn't have any friends, ever since her friend Mikan moved away in elementary school. Natsumi thinks the cause of this is her personality. Other girls--especially the "popular" group--keep distance away from her because she is so "different."
She doesn't realize this but when her chara, Mayu, is born, she starts to act more girlier and kinder. The girls in her classes think she has changed so they start to hang out with her. Though when Natsumi talks about sports or other things they don't like, they ignore her or change the subject. She thinks they aren't doing this on purpose, but Mayu tells her that they don't like her for her. Only her personality and "girliness." Natsumi starts to doubt herself but Mayu cheers her up.
One thing Natsumi has an interest in, but isn't very good at, is dancing. She likes watching people do the salsa or tango or any type of dancing, but mainly those two. She ends up taking a dancing class but the girls there are harsh. She thinks that if she impresses them, they would like her. This is how Asako got born. Asako chara changed with her and does the tango and her class is impressed. After she finished chara changing, Natsumi doesn't realize what she has done and tells them all that wasn't her. She later ends up quitting the class.
She also likes music, but isn't good at playing any instruments. This caused her chara Misei to be born.
When Natsumi ended up joining the Guardians, she became more open and less shy. She loves talking to them and hanging out with them. Her reputation of an outsider changed then. Though she soon realizes reputation, looks, and wealth isn't everything. It's what the inside accounts.
Love Life
N/A
Shugo Charas
Mayu- Apperance
Personality:
Happy-lucky-going, bright, open-minded, curious, responsible
Asako- Appearance
Personality:
Swift, careless, free, devilish, dependent
Misei- Appearance
Personality:
Loud, destructive, irresponsible, independent
Character Transformations [will change soon]
Coded Tsundere [Mayu]
Bold Thespian [Asako]
Rokku Heart [Misei]
*In each chara nari, the ends of her hair are tipped with a certain color.
Coded Tsundere's hair is tipped with violet.
Bold Thespian's hair is tipped with crimson.
Rokku Heart's hair is tipped with blue.