~
My
Nindo
way,
Don't judge me by first glance, Judge me in the battle...~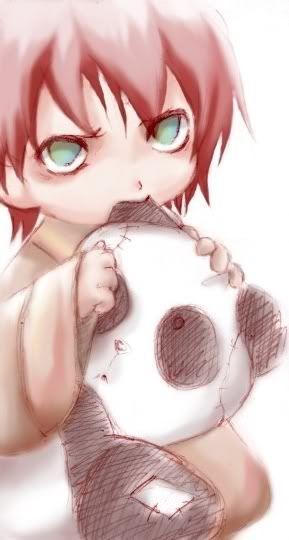 Gaia Name: Cuty Mishima 808
Name: Sabaku no Giroro
Age: 5
Rank: Genin
Village/Country: Sunagakure
Clan(If any): Noope
Summoning: none
Crush(If any): I TELL YOU A THOUSAND TIMES THAT ITS NOT HENJI
Bio: Giroro was the son of the 5th Kazekage Gaara and Matsuri along with his twin Kago. He felt ignored by both his parents for his twin had all the attention because of her special sand abilities. Little that he knew he could exactly the same. But even tho he could do so he was still ignored for the next shukaku host was Kago. He was close to Henji but not to his sister.
Likes: Cherries,

Henji

( that was nothing )and her so called 'art' ( he finds it amusing )
Dislikes: KAGO!, the rain... ( i have my reasons...) spicy foods and annoying people
Personality: Giroro is serious for his age and kinda mature. He tends to stop his serious and mature ways around Henji. He has a deep hatred for Kago but still keeps a smile on his face. Its unusual for him to envy someone. If you see him sad or depressed the whole day the only thing that will cheer him up is to just hear Henji laugh. Lastly he can be protective.
Jutsu Element: Sand and Wind
Other: I agreed to Henji's whole " Can Bumu turn Giro into a human puppet?" thing
Strengths- That i'm not sure yet..
Weaknesses- B-Bumu-chan....And Kago
Parents: Gaara and Matsuri
Weapons: A katana and my sand
Relationships: Henji is just a close friend nothing more nothing less.

Theme song: Cemetery drive - mcr