This is only my favorite video game in the world.
Ever since I was 9.
Granted, it used to freak me out with all of its violence,
but the simple beauty of the game made it bearable.
This game is filled with a strong, witty female heroine,
beautiful regions of the Drakan world,
melodic music to illustrate your adventures,
and all of the wonder of the mystic you could ask for.
This game is like my dream come true.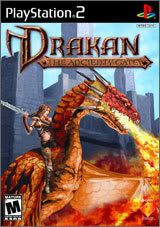 SO WHY IN THE HELL,
IN THESE PAST 8 YEARS,
DID I NEVER, EVER THINK
THAT THERE MIGHT BE A

STRATEGY GUIDE




FOR THIS GAME!?!?!




I don't know,
but there is.
And I've ordered it,
and I can't wait to get it.
It's like it's making the Drakan experience
fresh for me again!
And I didn't think that there would ever be another surprise for me
in this game series smile
All I have to say is




HALLE-FREAKIN-LUJAH!!!!!!!!