D.gray-man~
Since D.gray-man Ended recently, and i'm soo waiting for a new season.
I might as well roleplay while i wait
3nodding
, So heres the info bits:
Name: Kirai Hitsugi
Age: 17
Birthdate: June 20
Bloodtype: A
Innocence: A guitar, that can generate powerful soundwaves.
And quite good for hitting ppl on the head with
A new excorcist of the black order, found by Tiedoll Gensi. Ritsu is a playful girl who could get along with almost anybody. Her character is like a servant, she wont complain to anything. But she is clingy.
Being new and all, Tiedoll asks Kanda to be her assistant. But rather she tries to become his friend.
She does chase Kanda around when he's with Allen, collecting data
*coughyullencough*
Junjou Romantica~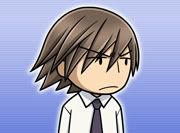 This is just to have fun in my yaoi fangirlism ><
My friends asked me to go as Kamijou Hiroki
Not surprising, i get stressed easily =_="
The guy in the middle is Hiro-chan
x3