I've got to thinking. If I were born a boy but looked the same, I would get beat up a lot by other guys.
'Cause I know it's popular to believe that if guys smell like roses and sweets, they'll get beat up by other guys (who think the first guy is a wuss), right? So wouldn't that apply to girly LOOKING guys too? Not like handsome but pretty looking guys?
Would pretty looking guys be accepted by girls then?
hm. These are things to think about the next time you find a shirt that says "Guess" and you happen to be having a VERY good face/hair/eyes/walk(wtf?) day.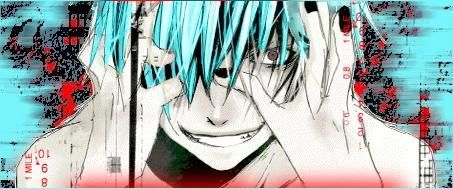 I adopted!
Name: Natsuo
Age: 17
Likes: blood, darkness, scary pastries
4laugh
Dislikes: sunlight, pink, little children
Owner: Doggy's bloody requiem
Get one now!