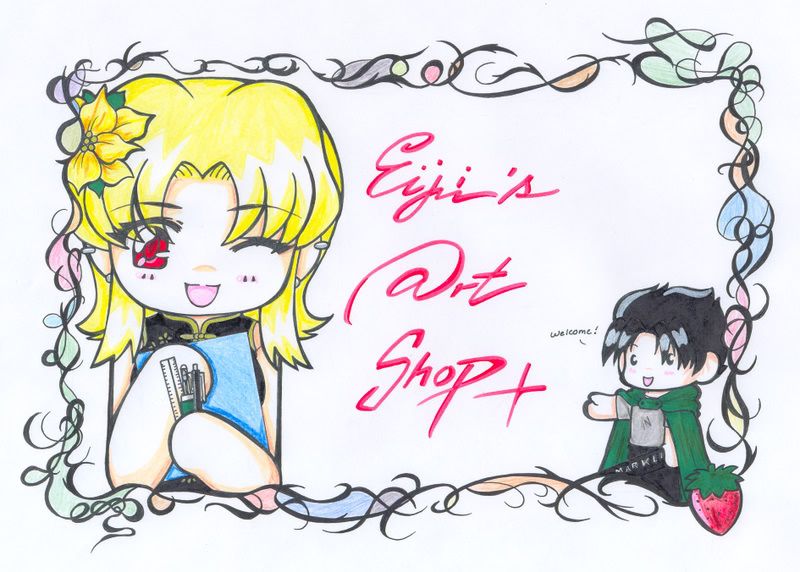 arrow
Art Shop Updates
Eiji kurenai here! Sorry, guys if I haven't update my art shop lately, I'm kinda busy finishing my pending art stuff especially on Non deviantART art commission order, updating my blog and many more..sounds like I'm so busy eh? Yes, but I can handle everything *giggle*
I'll post the finish product by the end of the month..sorry for the delay (in advance)
sweatdrop
Thank You Very Much!
heart
Gaia Art Commission List: :
First Batch:
1)King Henry-Done
2)Alusis-Done
3)Lunarlet-Done
4)DarkMoonSlayer-Done
5)M Melody-Done
Second Batch:
1) Rockergirlie-Done
2) DarkMoonSlayer-Done
3) iAyra Lamia-Done
4) Muse-Done
5) xRazorbladePrincessx-Done
Third Batch:
1).L.o.l.l.i.P.o.p.-Done
2)LunaCross-Done
3)xRazorbladePrincessx-Done
4) purplewiz-Done
5) strawberryakari-Done
Fourth Batch:
1) Darkmoonslayer- In Progress
2) Nightmare in Waiting-In Progress
3) Nikki Ninja-
4) Empire Star-
5) Aireonna-
Fifth Batch:
(I'm Accepting 3 Gaians For This Batch-Reservation Is
MUST
)
1)[Cindy]-
2)Female Pope-
3)Dyce Lexic-
4)AichaMegami-
5)
To refresh your memory here's the rules of my art shop..
arrow
The Rules
I know you guys wants to make a request on me thus..you need to be fair on the gaians out there who wants make a commission here..now! ladies and gents..here's the rule must be follow:
1) One gaian= one request only(either one avatar art or two original character design request)
2) Please give chance the othe gaians to make a request--don't be selfish!!!
stressed
3) Please give the commission request details like this:
a) link of the picture as a reference
b) if it's color or black and white
c) if it's human or chibi type
d) whole body or half body
e) what type of pose I should draw for your request
* Kindly please send it via private message in case you're sure on your order especially those gonna order of avatar art, also if you gonna change your avatar please make sure you've the copy of your avatar for my reference..
4) The prize list:
black and white artwork= 10,000 gold (inked)
colored artwork= 20,000 gold
(either half or whole body)
arrow
Materials that I'm using are: short,egg shell,a4 sized and long bond paper and fabre castell watercolour pencils
arrow
Genre: anime, chibi-SD, fanart, yuri, gothic, fanart, character design, gothic, dress and costume play design