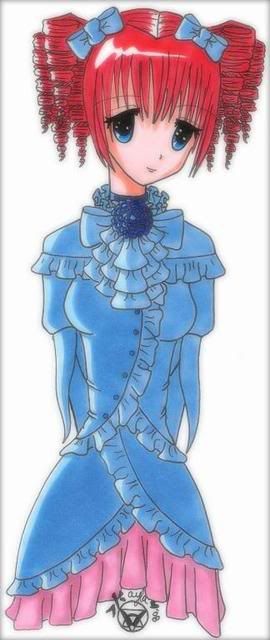 Image by: 0--Mistress--Misa--0

Quotes:
"Vampires are just like humans; they live, they breathe, they die. Guess what, I'm a vampires worst nightmare and only savior. I am their last fate."

"Every rose has it's thorn. Some are dull and some are able to p***k. My thorns just happen to be the sharpest of them all."

"Haven't you ever wondered what it would be like to fly? To escape from this reality and soar through the sky of fantasy?"

Other Pics
Badass-Image by: GAZE_smuggler_Smoo
One with Nature-Image by: IlSanguinitylI
Damien's Fantasy-Image by: animegurlyuki
Student Council-Image by: Code Violet/Colored by Kimi Frustra
"I love you, idiot"-Image by: Takuto_Girl
"The last thing I wanted to do was hurt you."-Image by: Takuto_Girl
"Allow me to stay by your side."-Image by: D: I can't remember </3 I'm truly sorry
"Try me, a*****e!"-Image by: Hadeki
Autumn Breeze-Image by: Magical Zombie Kuro-chan

Outfits: Group One and Group Two

Name: Kamiya, Yuki

Race: Souless Human

Gender: Female

Age: 16

Sexuality: Straight

Blood Type: O

Height: 4'11"

Weight: 118

Family Status: Her mother died of a mysterious illness and her father is still alive, but has yet to hear about her coming back to life.

Appearence: Yuki towers at four-foot-eleven-inches with a slender figure. She has friendly crystal blue eyes that grow empty and soulless whenever a wandering soul posesses her. She has long mildly curled orange hair that falls to her waist. Yuki always wears ribbons in her hair no matter what color. She can only wear one of her black ribbons due to her encounter with Damien previously when he took the other and refused to give it back. She is usually seen in her uniform; a black skirt that reaches to her upper thighs, a black vest, a white blouse, and a yellow neck ribbon.

Biography: Yuki grew up like any other child. She had a sweet and caring mother and an aggressive father. Life seemed grand until fate took a nasty turn for the worst. Yuki's mother, Kyouko, had gotten pregnant. Unfortunately, Kyouko had a miscarriage and soon after that she became incredibly ill. Kyouko would often skip her doctor's appointments because Yuki was also a sick child. That was when her father, Yukito began to blame her for Kyouko's condition simply getting worse. Yuki would often find comfort in her best friend Ayumi. At the age of twelve, Yuki began to cause herself harm. She stopped taking the medication she needed in order to stay alive and began to injure herself on purpose. When her father found out about this he beat her hard. Kyouko screamed and got into an argument with him. Death visited Yuki's home that night, aiming to take Kyouko's soul away. Yuki was the only one able to see him. That night Yuki was rushed to the hospital. When she was kissed by him, he nearly killed her. She was in a coma for two weeks. When awoken, her mother was even worse condition and she knew why. After waking up all she did was blame herself for Kyouko getting sicker and sicker. A few day afterwards she was at school with her best friend. That was when she killed herself by falling off the roof of the school. Ayumi didn't stop her and regretted it. After finding out about her only daughter's death, Kyouko began to have visions of her daughter coming back to life. She confided in her dear friend who happened to be a vampire. She made him promise to take care of her and to not tell her husband of her child's exsistance. Thinking that it was the medication, he agreed only to humor her. A month after her premonitions of her daughter, Kyouko died. It was only a week after Kyouko's death when Ayumi brought Yuki to Yutaka's doorstep. She was unresponsive, but curious for an entire year. Yutaka had to teach her things as if she were just a toddler starting out life. She remembers absolutely nothing about her past. All she remembers is her time with Ayumi and Yutaka. She remembers nothing of dying.

Personality: Yuki is overall a sweet and friendly person. She can hardly ever be put down. She tries to be friends with everyone, but is aware of the fact that she can't be because of the fued between humans and vampires. Though Yuki is generally a gentle person, she can also be hot-headed and violent at times. She is in the top five fighters at her school. One of her quotes, "Every rose has it's thorn. Some are dull and some are able to p***k. My thorns just happen to be the sharpest of them all." tells people that she is not as frail and weak as she may look.

Special Skills: Unlike the other students at her school who only have one ability, Yuki has an assorment of abilities. She can not only see the dead and communicate with the dead, but she is also able to become a medium for the deceased. She is unaffected by mind control unless they are extremely powerful and have feelings for them.(Damien is the only one who can control her) Yuki can also manipulate the elements of fire, water, and earth.